Thanksgiving at Rustler's Rooste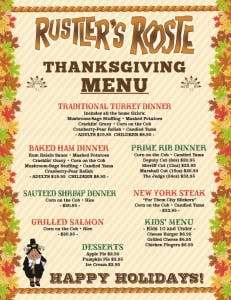 Posted October 20, 2017 by Ashley Allen
Don't Cook!
Yes! We are open on Thanksgiving day, offering a Holiday Menu of Thanksgiving Specials.
For the 25th year in a row, Rustler's Rooste Steakhouse presents "Thanksgiving at Rustler's Rooste" on Thursday, Nov. 23rd.
Join us for all the traditional dishes plus a few new ones.
Enjoy our Limited Holiday Menu OR try our world famous "Turkey Stuff" serves 6-8 ppl.